The first Fossil store in the United Arab Emirates has opened its doors at Abu Dhabi Mall. The vintage-inspired American lifestyle brand, rooted in authenticity and modern flair, is the fifth Fossil branch opened by Alyasra Fashion in the region. Other branches of the award-winning brand can be found in Kuwait and Saudi Arabia, with future plans to expand to Dubai on the horizon.
Known for creating trendy vintage styles that translate into timeless key pieces, the latest shopping destination will boast impressive and distinctive signature product offerings. Located in a prime spot on the ground floor of Abu Dhabi Mall, the dynamic new Fossil store offers a brand-immersive experience for keen shoppers.
The UAE store showcases the vibrant and colourful Spring / Summer 2017 collection, with a range of Fossil product categories including watches, leather goods, and chic eyewear and jewelry for men and women on display. Customers will also be able to enjoy the best in the latest smartwatch technology with Fossil's Q watch collection, endorsed by Hollywood actress Kristen Bell and American singing sensation, Austin Mahone. The Q watch range features impressive touchscreen functionality and classic good looks, allowing users to stay connected while on the go.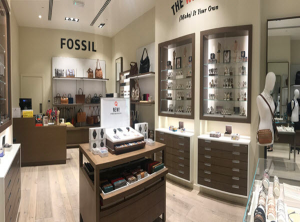 Grounded in vintage sensibilities, the brand's approach to design follows the three principles at the heart of all things that last: timeless style, authentic inspiration and spontaneous creativity. Since 1984, Fossil has been creating high-quality products that preserve the best of the past while updating it for today's consumer. It has since grown from a small watch business to an international lifestyle brand with a strong retail and e-commerce business featuring an eclectic assortment of accessory items that includes watches, handbags, small leather goods, and jewelry.
Alyasra Fashion's Business Manager for Accessories, Yazan Orabi, said, "We are thrilled to be opening the first Fossil store in the UAE. With nearly 25 years expertise in the region, Alyasra Fashion brings a deep understanding of customer needs and emerging market trends. This enables us to carefully select the product portfolio from Fossil, to best meet the varying demands of our diverse customers. We hope our shoppers fully enjoy the wonderful product selection that our Fossil store offers."
Fossil is proud to offer its products in more than 150 countries around the world. The brand has gained notoriety among watch enthusiasts who frequent their stores and connect with the brand via social media networks. It has succeeded in staying true to their long heritage of elegant designs which have come to define the brand.